Chattanooga, a Virtual Tour
Williams Island
Courtesy of Paul Stanfield, GA
Please
contact
Webmaster for use of any of the following images
(2008) Williams Island/ Samuel Williams farm

At the time of the civil war, Samuel Williams was a wealthy plantation owner whose landholdings included a large farm along the northern bank of the Tennessee river and Williams Island (named after him). Following the battle of Chickamauga, union troops occupied Williams's plantation and island. Confederate Col. William C. Oats, commander 15th Alabama infantry, stated October 1863 that Williams was living and farming on his island. That same month Oats received help from Williams in a failed waterborne foray against union forces camped on Williams Island. Williams suffered considerable property loss during and after the civil war.

Just downstream from Moccasin Bend is Williams Island. This natural treasure is owned by the State of Tennessee - Division of Archaeology, but is managed by the Tennessee River Gorge Trust. Here, evidence of man settling the area dates back to the 12,000 year range. However, the latest evidence suggests that date could be as far back as 15,000 years ago. These people were hunters and gatherers for the most part, but they also grew crops. This fertile island has had agricultural activities off and on throughout the years up to today. Farmers raise cattle here today and certified organic farming takes place on a limited basis. The island has reverted back to a naturally wooded state over much of the acreage, and there is also a wetland on the island that is home to many native amphibians as well as beavers. Without some carefully managed agriculture, the island would become overgrown very quickly and it would be impossible to continue archaeological research.

During the Civil War, one of the men who stole the locomotive "The General" from Atlanta escaped custody from authorities in Chattanooga and hid out on Williams Island until he was recaptured.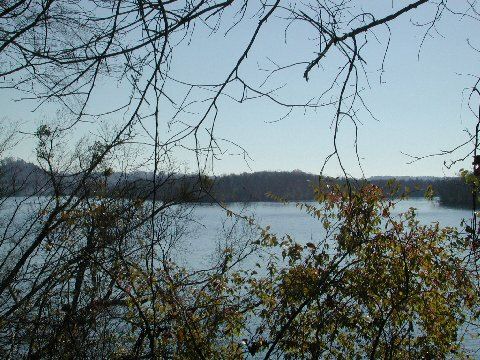 (2008) Williams Island from Suck Creek Road
Return to Chattanooga, a Virtual Tour