Last Updated October 17, 2013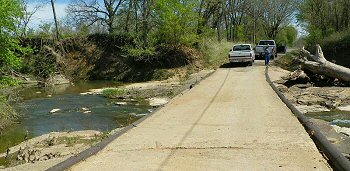 Wartime Dragoon Trail crossing of Clear Boggy River
Pontotoc County, OK
Phillips' Expedition of 1864 into Pontotoc County, Oklahoma
WELCOME to CivilWarAlbum.com!
Online Since 1998
Assembled here is a collection of over 21,100 modern photos and panoramas of Civil War sites. The photos (1950's - October 2013) and narratives were provided by the Webmaster and 162 contributors. Included are numerous wartime photos, as well as several official records, reports and maps. Because of the extensive content of CivilWarAlbum.com the site is best viewed with a broadband connection.

I wish to extend a special Thank-you to the Contributors who have generously submitted their photos for display in the CivilWarAlbum.com Photo Albums. You all have done an excellent job and it is greatly appreciated. The Photo Contributors have made the Website what it is today. If anyone has photos of Civil War sites and would like to share them please Contact me.



CivilWarAlbum.com is updated regularly, so be sure to check Latest Updates for links to recently added material. Click to add CivilWarAlbum.com to Your Favorites. Thanks for visiting and come back soon!
Bruce Schulze
Oklahoma Highway Patrol, ret.
Owner/Webmaster
CivilWarAlbum.com
Hosted by
Copyright ©

1998-

20

13

CivilWarAlbum.com