Last Updated December 26, 2011

Tanglewood Resort and Conference Center Video, Pottsboro, Texas NEW
To all visitors to this page, WELCOME!

As Commander of Lee - Bourland Camp 1848 Sons Of Confederate Veterans, I invite you to learn about our organizationís purpose and, if you find that you qualify for membership and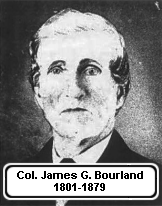 would like to join us in honoring and preserving the history, and memory of our Confederate ancestors, I invite you to Contact the Camp adjutant via e-mail to obtain an application.

Thru out the website, you will be able to look at what is going on with our camp. Be sure to check Latest Updates for a list of new additions.

All visitors are welcome at our meetings, and we hope that you will join us if you are in the area. If you are a male of at least thirteen years of age and have an ancestor (either direct or collateral) who served the Confederate States of America , you are eligible for membership in the Sons Of Confederate Veterans, and our Camp. Please contact us for more information.
Click photo for additional Col. James G. Bourland information.

Joe White
Commander
Lee - Bourland Camp 1848
Lee-Bourland Camp #1848 Meeting Place and Time

If you would like to join us, the camp meets on the 3rd (Third) Thursday of each month at Neu Ranch House and Catfish Louie's, 1825 E. Hwy 82, Gainesville, TX, at 6:30pm for dinner. The meeting starts at 7 pm and usually ends by 8:30 pm. The December meeting will be a Christmas banquet. Click Here to see a map of Gainesville and the camp meeting place.