All eligible applicants are encouraged to pursue membership in our camp. Contact one of the camp officers for more information.

Historical Marker in Moffett Park, Gainesville, TX: Cooke County, C.S.A. 2nd Frontier Regiment.

Bourland's Cavalry (Bourlands "Border" Regiment).
Col. James G. Bourland, soldier and state senator, was born in South Carolina on August 11, 1801, to Benjamin and Nancy Bourland. He was married twice, to Catherine Wells and Nancy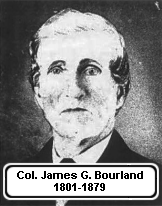 Salina, and had seven children. He lived in Kentucky and Tennessee, where he traded in slaves and horses, before he moved to what is now Lamar County, Texas, in 1837. He led a volunteer company against Indians in 1841. Later that year he served as second-in-command to William C. Young in another campaign and stayed when Young organized the Third Regiment, Texas Mounted Rifles, for the Mexican War. After serving as a deputy surveyor, he became the collector of customs for the Red River District in 1842 and was elected to the Senate of the First and Second state legislatures. A clash over customs duties with the crew of a United States ship in 1843 led to his being awarded a substantial sum of money by a United States court five years later. After his father, who had also settled in Texas, died in 1851, Bourland invested in a mercantile enterprise and founded a plantation on land now in Cooke County. During the late 1850s he again led a volunteer company against Indians. When the Civil War began, he served as provost marshal for the region in which he resided and in that role directed the investigation that climaxed with the Great Hanging at Gainesville in 1862. Afterward, he was authorized to organize and lead the "Border Regiment," which remained in North Texas although it was in Confederate service, and was later given control of all troops on the northwestern frontier. He was accused of atrocities, in addition to the Great Hanging, but Confederate officials ignored the accusations. After the war ended he received a presidential pardon and was acquitted by a civil court. He subsequently lived in seclusion until his death, on August 20, 1879.

BIBLIOGRAPHY: Bourland Family File, Sherman Municipal Library, Sherman, Texas. Richard B. McCaslin, Tainted Breeze: The Great Hanging at Gainesville, Texas (Ph.D. Dissertation, University of Texas at Austin, 1988). William S. Speer and John H. Brown, eds., Encyclopedia of the New West (Marshall, Texas: United States Biographical Publishing, 1881; rpt., Easley, South Carolina: Southern Historical Press, 1978). Rex Wallace Strickland, "History of Fannin County, Texas, 1836-1843," Southwestern Historical Quarterly 33, 34 (April, July 1930)."

Col. James Bourland was the "Float-Senator" in the Texas Senate from the district of Fannin, Red River, and Bowie Counties. 25 Feb, 1846, 1st Session. He served for 4 years.

"During the Mexican War (1846-47), Bourland, along with William C. Young, raised one thousand troops and marched them to San Antonio, where they were mustered in. From " Wright, "Texas in the War...."

In the "Encyclopedia of the New West," Ed. By William S. Speer, Marshall Texas: The United States Biographical Pub. County, 1881, it states "When William C. Young raised a regiment [3rd Reg., Texas Mounted Volunteers] for the Mexican war, ... Mr. Bourland was elected lieutenant-colonel, and his brother William Bourland, major. But the war closed about the time they reached the Rio Grande and they never participated in any battle." The Regiment was later surrendered by General E.K. Smith, commanding Trans-Mississippi Department, on 26 May 1865. Also know as the "Texas Border Cavalry Battalion" and later the "Texas Border Cavalry Regiment."

"Among the prominent families of Delaware Bend was Col. James Boreland [sic]... And his son-in-law, Col. A.B. Manion. These two men came with their families to Cooke County several years before the Civil War and located at the upper end of Delaware Bend, which in those days was on the direct route between the East Texas markets and Fort Arbuckle, fifty or sixty miles nearly directly north. Boreland and Manion engaged in the mercantile business and dealt with the soldiers at Fort Arbuckle and the Indians from the north side of Red River. The carried a large stock of merchandise, and also raised much corn and many hogs,, which they sold principally to the government." "Fall Term of Court, 1857: Ordered that James Bourland be appointed presiding officer at all elections for the year 1857 for precinct 3, and the elections to be held at the store or house of James Bourland.

Capt. James Bourland, Commanding Officer of Texas Rangers, Mounted Volunteers. Enlisted 28 Oct, 1858, discharged 28 Apr, 1859. In the Civil War, the "Bourland Texas Cavalry" was organized in early 1863. Col. Bourland commanded a regiment whose duty it was to "protect the North-western frontier against the hostile Indians in the darkest day ever known in that region."

In the cartoon "Texas Lore" by Patrick M. Reynolds, a story is told this way: "During the Civil War, as Sophia Coffee was wining and dining some Yankee scouts at Glen Eden (her plantation in Grayson county,) she heard they were seeking Col. James Bourland, the Confederate leader of Texas' Frontier Defenders. While her guests were busy, Sophia slipped away, swam her horse across the Red River, warned Col. Bourland & helped prevent an invasion of North Texas. Sophia, widow of Holland Coffee, died in 1899. Today their home, Glen Eden, lies beneath Lake Texoma." Sophie was featured in the book "Legendary Ladies of Texas" by Abernathy about ladies of the evening. Patti Rochette states that a Texas list maker lists Col. James Bourland as a frequent guest.

Information from an unpublished draft manuscript titled NORTHEAST TEXAS PIONEERS 1800-1877, copyright by Skipper Steely, 1989, Paris, Texas: "They moved from Kentucky back to Weakley County, where he owned a race track with Nathaniel Herbert and Albert Early, and apparently bought and sold slaves and horses. James Bourland came to Texas according to land records, in 1836. He surveyed land as a vocation, and sometime in 1837 chose a piece for himself on the North Sulphur River southwest of Roxton. In 1842 he was named as collector of import duties for the Red River District. In 1846 he was elected to represent Fannin, Lamar, Red River and Bowie Counties. He was re-elected for a second term. In 1847 James Bourland also received a land certificate for helping build or survey the Central National Road, which ran through part of the Bourland property. James Bourland served in the Mexican War, and was an incorporator of the Memphis El Paso and Pacific Railroad. By 1853 he had moved to Delaware Bend in Cooke County. In 1858 he raised a company to stop Indian depredations. At the onset of the Civil War, James Bourland served as a member of Young's 11th Texas Regiment, but later organized the 2nd Frontier Regiment, Bourland's Texas Cavalry. In 1862 he was also named provost Marshall of Cooke County. In 1864 Indian problems became very serious, and Bourland led a group in pursuit that fall. Most of all, James Bourland is known for his part in the Gainesville Hangings. He is buried in the Orlena Cemetery."

More About James G. Bourland:
Burial: Orlena Cemetery
Election: February 25, 1846, Fannin, Red River, And Bowie County, Texas
Military active duty: Abt. 1846, San Antonio, Bexar County, Texas61
Occupation: 1841


Marker Title: Cooke County, C.S.A./2nd Frontier Regiment
Address: Moffett Park
City: Gainesville
Year Marker Erected: 1963
Marker Location: East of Elm Fork Bridge on SH 51, in Moffett Park, Gainesville.
Marker Text: Military, defense center in Civil War. Cooke voted 231 to 137 anti-secession, yet nine military units served Confederacy from here. In constant danger of Federal or Indian attack. Col. Wm. C. Young of Cooke, with 1,000 men took Indian Territory forts from Federals April-May 1861. Commissioners set up regular patrols. Forted a home as refuge for dependents. Gave $4,000 for munitions and wool cards to make cloth. Cotton gin, grist mill, gunsmiths, blacksmiths made war goods. C.S.A. Was furnished Epsom salts from Indian creek. Corn, beef, pork, wheat, other produce fed the military, home front. County swapped 25 steers for salt for dependent families. People worked hard, sacrificed much, protected homes of fighting men of Confederacy. (Back of Cooke County, C.S.A.) Organized Oct. 1863 with Gainesville as headquarters, the Second Frontier Regiment, Texas Cavalry C.S.A. Guarded counties along Red River, to keep down outlaws, Indians, deserters. Col. James Bourland (1803-1868) was appointed Commander and it became known as "Bourland's Border Regiment." Union invasion from north of Red River was constantly threatened. These mounted troops patrolled, maintained posts along river and in Indian Territory. Confederate Seminole troops served with the unit. Famous Confederate Indian Gen. Stand Watie and his Cherokee Brigade shared duty along perilous border. Bourland also worked with Frontier Regiment, state troops, that maintained line posts 100 MI. West, a day's horseback ride apart, from Red to Rio Grande rivers, and with a state militia line 30 MI. To the west. Erected by The State of Texas 1963.